Handi Quilter Virtual Event – Calico Gals, November 7-8, 2020
November 7, 2020 @ 9:00 am

-

November 8, 2020 @ 4:00 pm

CST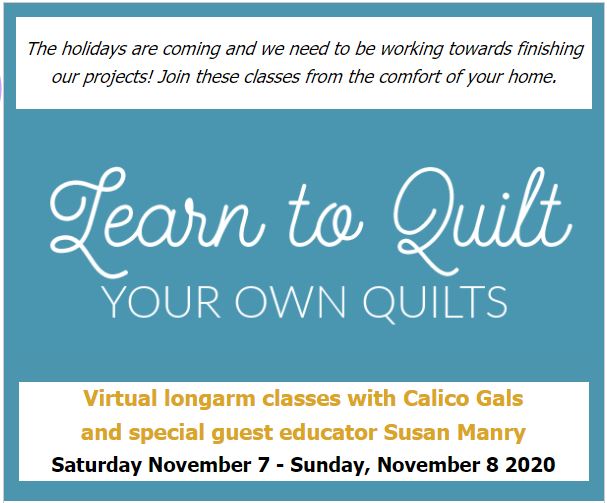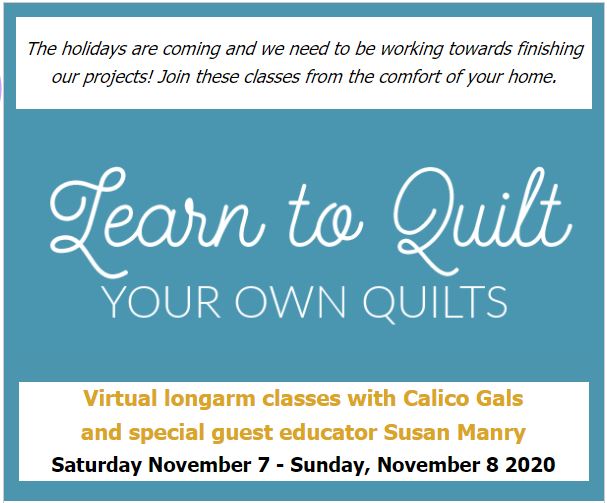 I'm so pleased by how Quilting brings people together! This Saturday, November 7th, I'll be partnering with Calico Gals of Syracuse, NY to host a two-day, eight-hour event that aims to teach you everything you need to know about Longarm Quilting with Pro-Stitcher.
On the first day, we'll begin by exploring all the features of Handi Quilter Longarm machines and frames. We'll learn how to set tension on the bobbin and machine, we'll discuss needles and thread, and how to best load your quilt onto a longarm frame. We'll learn to select the right thread and designs for our projects, and touch on free-motion quilting, ruler work, and how best to apply both.
After lunch, we'll continue with an exploration of more free motion quilting techniques that we can use to fill our quilt space with fun and easy designs. We'll talk about how to pick the perfect accents for backgrounds, how to create vivid textures with fills, both large and small.
On day two, we move on to Pro-Stitcher! We'll kick off by familiarizing ourselves with interface features and shortcuts, the design catalogue, and the vast library of resources– patterns, tutorials, and peers– available to all users. We'll explore the functionality of both the Simulator and Designer portion of the program, and how to seamlessly transfer our work from screen to screen, and design to quilts!
After breaking for lunch, we'll return to polish our knowledge with a suite of techniques essential to finishing any quilt. We'll master borders and corners using the chunking method, the entire range of Modify features, how to digitize your designs, and much more!
This year, it's been harder in many ways for us to connect, but this is an opportunity for quilters everywhere to share in the same experience. I look forward to seeing you there!
Class size is limited – reserve your spot early!  Applicants to this class should be comfortable with using Zoom to communicate, and should ensure the stability of their connection, as well as the fidelity of their voice and video communication prior to the day of the class! A simple Zoom tutorial can be found here.

Related Events